The Best Rod Protection Available Anywhere.
Durable
Our sleeves are made of high quality 2mm neoprene covered in fade-resistant fabric in a variety of colors.  Custom labels can be applied.
Snagproof
The light yet firm material resists hooks embedding in it with anything less than a firm hookset.  Line guides cannot tangle in the sleeve.
Fitted
The sleeves are individually cut and sewn for regular or microguide casting rods, and spinning covers are custom sized to your rods.  These covers are designed for bass rods.  If you have a larger rod like catfish, muskie or offshore then let me know that it needs to be cut larger.  There may be an additional cost if you need an very long or large-circumference cover.
Secure
Each sleeve includes a clear vinyl pocket for an information tag and a reel loop cord with a cord lock to attach the sleeve.

The Best Power-Pole Covers Available Anywhere.
Custom fit solutions.
We also make travel covers in any of our colors for Power-Pole Shallow Water Anchors.  These covers are fitted to each model and size of Power-Pole.  They pull snugly over the anchors and fasten with a snap.  The covers reduce road damage from debris and prevent accidental lowering of the poles on the roadway.
The covers pull down from the top and snap at the bottom.  They will not fit over added accessories such as drift paddles.
The covers can be ordered to fit over popular light kits.  Call or email for details.
And they look great on your boat!

Your name or logo can be added to the cover too.
Below is a list of colors regularly in stock.
You can call or email me about a different color and I'll check if I can get it for you.

Neoprene colors: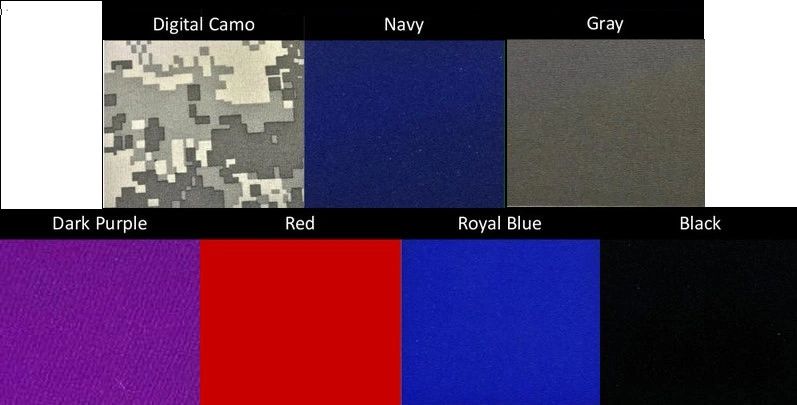 Logo & lettering colors: