Bass U Power-Pole (tm) Shallow Water Anchor Travel Cover LOGO INCLUDED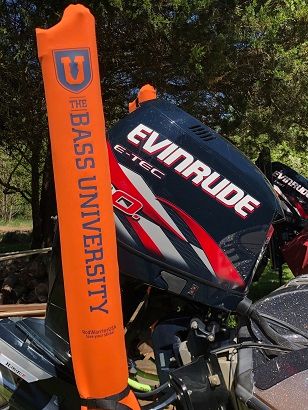 Bass U Power-Pole (tm) Shallow Water Anchor Travel Cover LOGO INCLUDED
BASS U Premium neoprene Power-Pole travel cover.  Select color, model and any options such as light or drift paddles.
This special item is predefined to include the Bass U logo on the cover.
Default is orange cover with navy logo.
Protect your Power-Pole while on the road.  Fabric cover will not scratch the finish and covers will not move while traveling.  These neoprene covers fit securely over your Power-Pole and attach with a snap and a strap at the bottom.  Strap should be cinched tight around the cover on the pole.
Tailored fit ensures that your anchor will not drop while the cover is in place.  A mesh vent on the inboard face allows air to flow through the cover to avoid buildup on the road. If you have an aftermarket add-on like an RMP light or drift paddles, there is a cover design for those options.  Just choose during product selection.